• Custom AI Solutions: Designing and developing custom AI applications and solutions that address your specific business needs, leveraging techniques such as machine learning, natural language processing, computer vision, and predictive analytics.
• AI Model Development: Building AI models and algorithms that enable automation, data analysis, and decision-making capabilities, empowering you to extract insights and make informed decisions from your data.
• Chatbots and Virtual Assistants: Creating intelligent chatbot and virtual assistant solutions to enhance customer support, automate routine tasks, and improve user experiences.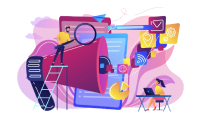 • Ethical AI Framework: Assisting your organization in developing and implementing ethical AI practices, ensuring transparency, fairness, and accountability in AI systems.
• AI Governance: Establishing governance frameworks and policies to manage AI risks, including data privacy, bias mitigation, and compliance with regulatory requirements